The Ills of Zero-Tolerance
In today's broken education system schools often employ the punishment tactics rightly dubbed "zero-tolerance" policies. These policies punish offenders harshly in order to set a precedent for the future. They do not discriminate, and they do not pander to individuals or their rights. Zero-tolerance policies have no place in modern education, and have been proven to be ineffective and inappropriate in both schooling and in the justice system.
Among other things, this system of punishment shows laziness on school administrator's behalves. Instead of looking at all problems and the means of intent or malice, the school punishes the ill willed and well intentioned children the same. A troubled student that brings a gun to school to show his or her friends can get the same penalty as an innocent joker firing off a finger gun as part of a game they're playing. Everyone has played cops and robbers or reenacted a movie scene. Does this mean they should be expelled from school? It's quite clear to an observer who should receive the harsh and more focused punishment. Looking at each break in the rules individually is a responsibility on the school, and a deserved right for the children. Most go to school and abide by the rules, one mistake later, their lives can be uprooted. Look at Nathan Entingh. Reportedly, "The 10-year-old… pointed his finger… said 'bang'" and was consequently suspended. Even after review, the board found his punishment just and correct.
The zero-tolerance culture can most likely be attributed to the 1994 Gun-Free School Act. This act requires and school that receives federal funding to follow a subsequently enacted state law that results in a mandatory one year expulsion for any student that brings a gun into a school. The sentence is mandatory, no questions to be asked or answered. Despite leaving an clause that a ¨chief administering officer¨ may modify it on a case-by-case
,
the large majority of cases simply are not. Period. End of story. Wants to shoot the school up? Punished, nobody's complaining. Accidentally leaves a weapon in his backpack or pocket? Doesn't matter. Therein lies the problem with this law. It doesn't ask questions, it doesn't care, it just punishes. It doesn't rehabilitate or seek answers. It just punishes.
This type of punishment exists under the assumption that possible rule breakers will see the ones who first break it, see the punishment, and not do it. This simply is not true. Not only does this result in the unfair punishment of the first offenders to "set an example", the next ones will do it anyway. In this scenario everyone loses. Stopping children from committing crimes in a school environment is extremely difficult to solve and will certainly not be solved with negativity and scare tactics. Instead of searching for healthy solutions, schools rely on the perpetuation of fear among the students. Clearly that is not the best way to solve behavioral problems. This can especially be seen in the United States criminal justice system, where zero tolerance and fear mongering is especially ineffective, see the 'War on Drugs'. The decades long battle on a faceless enemy was meant to strike fear into drug users and dealers. Quite clearly, it didn't work at all and resulted in the unfair incarceration of hundreds of thousands of victimless ´criminals´. If it didn't work on a country wide scale, why would it ever work with children, whose brains aren't even fully developed? Simply put, no sense there is no sense put into the enactment of zero tolerance policies.
It's extremely unfair for schools to slap a one-size fits all sticker on punishment, because not every case is the same. Administrator's use the classic excuse that they're hands are tied, or there's nothing they can do. How can they be tied if you are the one who made the rules. They literally can do everything. In almost every rule book, there is a clause saying principals and staff reserve all rights to change rules according to what they deem fit. So use that clause! Instead, they hide behind their laziness and lack of aptitude for their jobs, leaving the children to suffer from it.
Often times, schools will assign a ¨resource officer¨ to enforce rules, which is basically a cop. The intention here is to promote a protected environment with a nice officer to keep everyone safe. In reality, the police presence does more harm than good. The current image of police in America, right or wrong, is a picture of an evil white man with no morals, willing to shoot down any minority who steps in his way. This image is burned into the minds of the young and impressionable students. Is this the image schools want walking in the halls? The introduction of a resource officer has the opposite effect than intended. Is scaring children into behaving the only thing that school administrators know how to do? Countless horrifying videos can be found online of police in schools of officers committing acts of gross misconduct. Not only this, but most often these proven racist officers target minorities. Juvenile justice worker Jim Germain finds that "...74 percent of arrests in New York City public schools in 2012 were for misdemeanors or civil violations...And more than 95 percent of school-based arrests were of black and Latino students." Parallel to the US justice system, students are being arrested for non-violent crimes, minorities especially. Much more productive, healthier things can be done with 100,000 dollars a year than creating an environment where students are fearful for their safety and their future, the opposite of what schools exist for.
Zero-tolerance policies have been proven to not work. The effort put into punishing students could instead be put towards solutions. Instead of focusing on destroying the roots of behavioral problems, schools try to machete the resulting overgrowth. Even ignoring the facts and figures, and they certainly exist, the sheer reasoning and logic behind this type punishment just does not add up. Zero-tolerance policies have been proven to not work, and have absolutely no place in the current education system.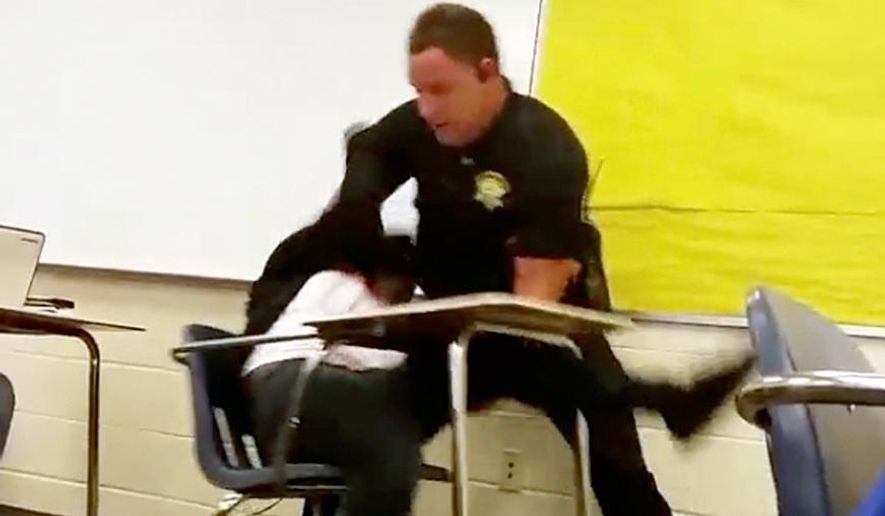 Germain, Jim. "Take Cops out of Schools."
Washington Post
. The Washington Post, 28 Oct. 2015.
Hinkle, A. Barton. "Zero Tolerance Hurts Kids and Ruins Schools."
Reason
. Reason.com, 31 Mar.
Skiba, Russ. "The Dark Side of Zero Tolerance: Can Punishment Lead to Safe Schools?"
The Phi
Delta Kappan
80.5 (1999): n. pag. Web.
American Psychological Association Zero Tolerance Task Force. "Are Zero Tolerance Policies
Effective in the Schools?: An Evidentiary Review and Recommendations."
American Psychologist
63.9 (2008): 852-62. Web.